NOTICE: Lake Products will be closed Monday, February 27th through Sunday, March 12th. Any orders received during
this time will be promptly shipped on Monday March 13. We thank you for your business!
Fishing Tools That Make Tying Knots Easy, Fast & Safe
For ALL Fisherman - Fly • Ice • Freshwater • Saltwater
To Enjoy Fishing and Catch More Fish, You Have to
Master Tying Knots
• It's hard to see the line to tie a knot
• Fingers stiff, cold & no longer nimble
• You're using multiple tools to tie knots
• Taking too long to tie knots
• You're tired of getting stuck by hooks
• Your knots are slipping or breaking
• Difficult tying knots in a rocking boat
• Dropping your jig or fly while threading
Lake Products has the knot tying tool you need to get your knots tied easy, fast and secure.
Our Fishing Tools Make it Easy & Quick
to Master Tying 17+ Various Knots
with Instruction Manual Included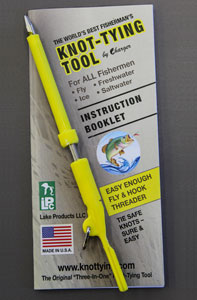 Small Fly & Hook Threader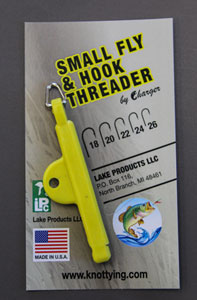 What do you as a fisherman actually need to make fishing more fun & less time consuming?
Lake Products fishing tools are all about quick and easy knot tying. If you and your fishermen friends can tie safe knots, sure and easy, you will enjoy more fishing and better catches.

We have two unique tools you can use, whether your a fly, freshwater, ice or saltwater fisherman, that can help you tie your tackle in a snap and be ready to catch some fish.
Our first tool is the Original "Three-in-One" Knot-Tying Tool that will help you tie 17+ various knots with ease.
Our second tool is a Small Fly & Hook Threader that is ideal for threading line through small hooks.
Don't settle for complicated, heavy or hard to use fishing knot tying tools that don't make it easy and cost you time fishing.
Grab one or both of our tools to save you time tying knots and enjoy more time on the river, stream or lake catching more fish!
So I decided to try this threader before I quit fly fishing. So now I can change flies in about a minute, instead of the 20 minutes it did before. Wish I would have purchased years ago. I might have done more fishing! Yes! I would recommend this to anyone!
Bought one for myself and liked it so much I bought three more for my fishing buddies. Makes threading a hook super easy, even on the smallest flies, and tying a clinch knot is a fast and foolproof.
Love this thing. I have several of these for various tackle boxes. I got this in the yellow color for when I put it down. It is a great attention device as you are sitting in the doctor's office and practicing knot tying. Note: Fly fishing purists use this when no one is looking.
I have owned this Knot Tying tool for years! Cannot go to the stream without it! Also have a spare that I keep in case I lose it!
I can enjoy fishing again and do not get frustrated tying knots anymore! The tool holds my small flies in place so I can guide the line through the eye! Great option! Tying the Nail Knot and Surgeons not has never been easier!
Want to easily Tie a Perfect Fishing Knot?
Our knot tying tools make it simple!